Our Services
Serving Barrington, Crystal Lake, Hampshire, Huntley, Island Lake, Lake Zurich, McHenry, McHenry County, Spring Grove, Union, Wauconda, Woodstock
Lugo Landscaping in Woodstock, IL is the city's reliable option for landscaping services. Call 815-324-3405 for an estimate on your tree stump removal, to discuss our available services further or to hear about our competitive pricing.

* Landscaping Services
* Landscape Design Services
* Lawn Maintenance Services
* Lawn Mowing Services
* Yard Clean Up Services
* Tree Stump Removal Services
* Emergency Tree Removal Services
* Tree Trimming Services
* Tree Planting Services
* Root Tree Removal Services
* Stepping Stones Install Services

About Us
Landscaping Woodstock IL
At Lugo Landscaping in Woodstock, IL, we commit to each project whether big or small. When foraging for a landscaper in Woodstock, look to us for incredible work. Our landscape services comprise landscape design, lawn maintenance and tree services. With over five years of experience, our licensed and insured professionals are fully adept at tackling whatever comes their way if it be an emergency tree removal or lawn mowing service.

We go that extra mile in achieving quality service for every project. The throes of maintaining a home can be tiresome and daunting. However, we are here to handle your yard clean-up so that you won't have to. Our proficient team is fully qualified to perform your root tree removal, stepping stones install and tree planting. Discover a tried-and-trusted landscaper in Woodstock who can perform a tree trimming service as well as it can design your landscape.

Lugo Landscaping in Woodstock, IL is your answer to finding and choosing a seasoned landscaping company. We hold a fortune of knowledge regarding lawn maintenance and tree work, making us a credible resource of yours when seeking these services.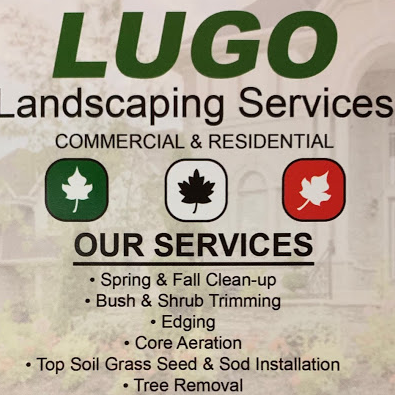 Landscaping Woodstock IL
---
Business Hours
Mon
7:00 AM - 7:00 PM
Tue
7:00 AM - 7:00 PM
Wed
7:00 AM - 7:00 PM
Thu
7:00 AM - 7:00 PM
Fri
7:00 AM - 7:00 PM
OPEN NOW - Closes at 7:00 PM
Sun
7:00 AM - 7:00 PM